Egypt, Total Energies sign MoU to produce 300K tons of green ammonia in Sokhna region
13 May 2022 / News / 281 / Fares RAHAHLIA
---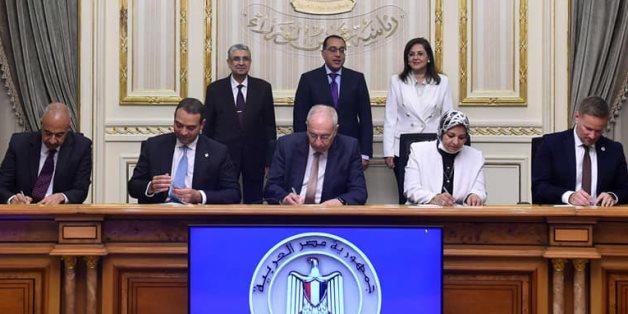 CAIRO - 12 May 2022: Egypt signed on Wednesday a memorandum of understanding (MoU) with Total Energies to annually produce 300,000 tons of green ammonia from clean energy in the Sokhna region, said the Egyptian Cabinet in a statement.
The MoU was signed between the Egyptian General Authority for Suez Canal Economic Zone (SCZone), Egypt's Sovereign Fund, the Egyptian Electricity Transmission (EETC), the New and Renewable Energy Authority (NREA), Egyptian company Enara Capital, and the alliance of the French "Total" companies.
Green ammonia is a 100-percent renewable and carbon-free ammonia that is produced by green hydrogen, which is obtained by "using hydrogen from water electrolysis and nitrogen separated from the air."
The signing was attended by Prime Minister Moustafa Mabouli, Minister of Electricity and Renewable Energy Mohamed Shaker, and Minister of Planning and Economic Development Hala al-Saeed.
"The Egyptian state is working diligently to support the transition to a green economy based on clean energy, by granting facilities and incentives to attract green investments, taking advantage of green financing opportunities, and signing more memoranda of understanding for projects that support this transformation. This comes in implementation of the directives of President Abdel-Fattah El-Sisi," said Mabouli.
"The project in Sokhna aims to produce 300,000 tons of green ammonia annually in the first phase, to then increase the productivity to 1.5 million tons per year, provided that it is fed with green hydrogen that will be produced from clean and renewable energy sources," said the SCZone chairperson Yahia Zaki.
Zaki added that the Suez Canal Economic Zone concluded a number of agreements with major international leading companies in the field of clean energy, to establish industrial complexes for the production of green hydrogen. This coincides with Egypt's hosting of the 27th session of the Conference of the States Parties to the United Nations Framework Convention on Climate Change (COP27) due to be held Next November in Sharm El-Sheikh.
The Egyptian government allocated a number of areas for producing green hydrogen in Suez Canal Economic Zone. In April 2022, two memoranda of understanding were signed by Egypt's SCZone authority and Abu Dhabi Future Energy Company (Masdar) to develop green hydrogen plants.
In March 2022, the Sovereign Fund of Egypt, Norway's Scatec ASA for renewable energy systems, Orascom Construction, Fertiglobe, and the Egyptian Fertilizers Company signed two memoranda of understanding to build and operate a green hydrogen plant with a capacity of 100 megawatts at Ain Sokhna Industrial Zone. In the same month, the prime minister also witnessed the signing of an MoU to produce green hydrogen that will be used to fuel ships through a plant that will be located in Ain Sokhna.
Maersk signed the MoU with the General Authority for Suez Canal, the Sovereign Fund of Egypt, the New and Renewable Energy Authority, and the Egyptian Company for Electricity Transmission.
---
---