Morocco: Octopus Energy, TAQA Invest £30 million in Morocco-UK Xlinks Power Project
27 April 2023 / News / 237 / Admin-23
---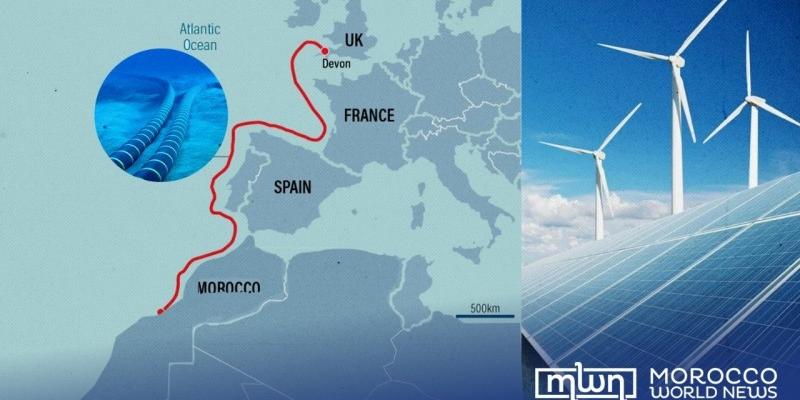 Rabat - British renewable energy group Octopus Energy and Abu Dhabi National Energy Company TAQA have invested £30 million (MAD 379 million) in the Moroccan-British power project, which would deliver green energy from Morocco to the UK through the Xlinks subsea cable.
"Xlinks First Limited has reached a critical early milestone with the successful closing of its new development funding," said Xlinks in a press release on Thursday, noting that TAQA has invested £25 million while Octopus Energy has invested £5 million.
The investment validates Xlinks' plans to lay the world's longest high-voltage direct current (HVDC) subsea cables between the UK and Morocco, which would pass through Portugal, Spain, and France, indicated the statement.
Xlinks described the project as a "first-of-a-kind long-distance renewable energy generation and cross-border export project," stressing that it would address the rising demand for firm power capacity worldwide.
The British startup aims to supply the UK with 3.6 gigawatts (GW) of electricity from renewable sources by 2030, which is equivalent to nearly 8% of the country's current energy requirements, enough to power seven million British homes.
The UK's Department for Energy Security and Net Zero has formed a "dedicated team" to assess the merits of the project and its potential contribution to the UK's energy security, added the statement.
Xlinks CEO Seimon Morrish said that TAQA and Octopus's investment would help his company achieve its ambition "to supply British households with secure, affordable, and green energy all year round."
He added, "The huge potential of the Morocco – UK Power Project will help the UK accelerate its transition to clean sources of power, increase energy security and reduce consumer bills."
For his part, TAQA's Managing Director Jasim Husain said that the company's investment into the Xlinks project reflects its commitment to "helping reduce emissions whilst maintaining the security of energy supply that societies depend on."
Meanwhile, CEO and Founder of Octopus Energy Greg Jackson stressed that an Xlinks-TAQA-Octopus partnership will help develop "one of the most visionary projects in the world."
As part of the Xlinks project, electricity will be generated by a 10.5GW solar and wind facility in the Guelmim-Oued Noun region in southern Morocco, supported by 20GWh/5GW of battery storage.
Four 3,800-kilometer subsea HVDC cables, manufactured in the UK, will connect the facility to the UK power grid in Devon, South West England.
Xlinks emphasized that the project will rely on Morocco's "renewable energy expertise," reinforce its "leading role globally in the fight against climate change," and support its renewable energy export strategy while providing further value to its natural resources.
The project is expected to create around 10,000 jobs in Morocco during construction and lead to significant foreign direct investments in the country, concluded the statement.
---
---