Egypt's Environment Minister, German Special Envoy to International Climate Action discuss preparation for COP 27
Egypt's Environment Minister, German Special Envoy to International Climate Action discuss preparation for COP 27
25 April 2022 / News / 381 / Fares RAHAHLIA
---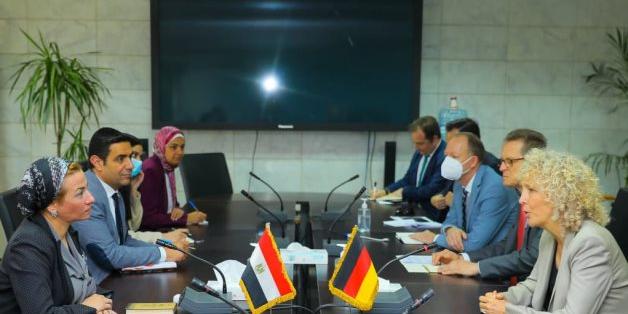 CAIRO – 24 April 2022: Egyptian Minister of Environment Yasmine Fouad met on Sunday with German Special Envoy to International Climate Action Jennifer Morgan, discussing the preparation for the UN Climate Change Conference 2022 (COP 27) due to convene in Sharm El Sheikh city in November this year.
"Egypt is keen, during its presidency of the [COP 27] conference, to build on the successes of the Glasgow Climate Conference," said Fouad in a statement issued by the Ministry.
She added that Egypt is pushing forward to achieving a balance between all tracks like climate mitigation and adaptation, climate financing, and losses and damages that cause by climate change impacts.
Fouad discussed the role of the participation of all segments of society in accelerating the pace of climate action, starting with local communities like housewives, farmers and fishermen, up to politicians and decision-makers, technicians, economists and social workers, and the private sector throughout different project models.
Morgan affirmed Germany, as the G7 president, is keen to work with the Egypt in supporting the climate action agenda and conducting a dialogue on the goal of adaptation and its initiatives, climate financing in light of the commitments of the seven countries.
Fouad affirmed that Sharm el-Sheikh Climate Conference would raise the issue of providing low-cost technology and its importance to developing countries, in light of their inability to provide the expenses of providing technology and the low level of education.
The Egyptian Minister said that Cairo announced to transform Sharm El-Sheikh into a green city, by converting all transportation means in the city to work with electricity or natural gas, developing a waste management system, supporting hotels to obtain a green star and using solar energy. She added that the country would provide a set of incentives for companies, youth and civil society to support this transformation.
---
---