Egypt receives 1.5 million Pfizer vaccines at Cairo airport from US
08 April 2022 / News / 344 / Fares RAHAHLIA
---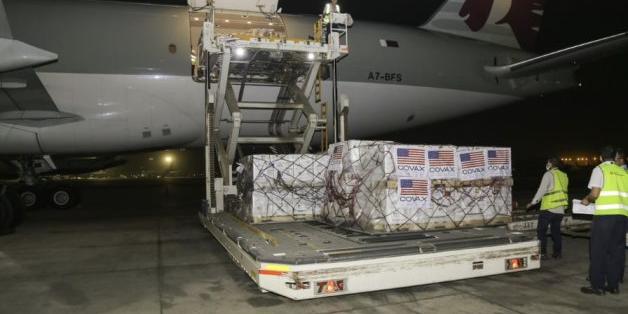 CAIRO - 7 April 2022: Cairo International Airport received on Wednesday night a shipment of 1,501,000 Pfizer coronavirus vaccine shots coming from the United States.
The shipment was delivered via the COVAX Facility in cooperation with the Vaccine Alliance GAVI, the Ministry of Health said in a statement.
"The shipment comes as part of the state's plan to diversify and expand the availability of the anti-coronavirus vaccines to preserve the gains of the Egyptian state in facing the pandemic," the statement read.
Egypt saw a drop in coronavirus cases and deaths by 54 percent and 45 percent respectively over the past week, Ministry of Health spokesman Hossam Abdel Ghaffar has said.
Occupancy rates for internal beds in hospitals hosting coronavirus cases and other patients have reached 29 percent, while occupancy rates at the intensive care units have reached 49 percent, Abdel Ghaffar noted.
This is in addition to 24 percent occupancy rates for ventilators use.
As a result of the drop in coronavirus cases, full isolation hospitals have been decreased to only four, which are Giza's Al-Agouza Hospital, Qalyubia's Qaha Central Hospital, Luxor's El-Odaisat Central Hospital, and Matrouh's El-Negealah Hospital.
Also, partial isolation hospitals have been decreased to only 16, the spokesman added.
Concerning the coronavirus vaccination campaign, the rates of daily vaccination during the holy month of Ramadan has ranged between 100,000 and 150,000 daily doses, the spokesman said.
The Ministry of Health has announced the northern Egyptian governorate of Beheira free from coronavirus cases for the first time since the start of the pandemic.
Over the past 10 days, all PCR tests for suspected cases and travelers in the governorate showed negative results, the ministry said in a statement on Wednesday.
Beheira has been one of the Egyptian governorates with the highest coronavirus vaccination rates, the ministry said, quoting Hany Gemeia, deputy undersecretary of the ministry in Beheira, as saying.
A total of 3,181,172 people has received the first coronavirus vaccine shot in Beheira, while 2,256,927 people have been fully vaccinated so far, the ministry added.
The average number of daily new infections with the Coronavirus (COVOD-19) reached 559 patients over the past week, said the Egyptian Ministry of Health on Saturday in a weekly briefing on the infection among the Egyptians.
It added that the average daily death toll reached eight new cases.
Meanwhile, the average of the recovered people reached 565, after receiving the necessary medical care in accordance with the guidelines of the World Health Organization, bringing the total number of people recovering from the coronavirus so far 438,458 cases.
It is reported that the number of people who are fully vaccinated against the virus has reached 32,563,052.
---
---