Egypt : Mercedes-Benz plans to produce electric vehicles in Egypt soon
04 May 2022 / News / 334 / Fares RAHAHLIA
---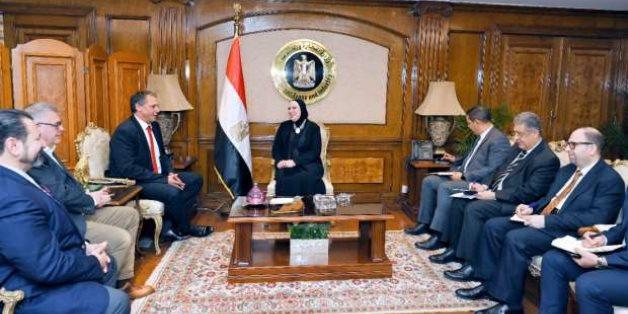 CAIRO – 3 May 2022: Minister of Trade and Industry Nevine Gamea held a meeting with CEO of Mercedes-Benz Egypt Gerd Bitterlich to discuss the company's present and future projects in the Egyptian market, as well as its intention to localize the manufacturing of electric vehicles in the country in the coming period.
Bitterlich said that Mercedes-Benz views Egypt as a promising market so that it raised the number of its agents in the country to five, having a total of 12 showrooms. It also introduced the production of GLE-class and GLS-class cars four-wheel cars.
Capitalizing on the remarkable growth achieved by the company in Egypt in the past years, Mercedes-Benz is currently finalizing its logistics center, spanning over 20,000 meters, at the Suez Canal Economic Zone (SCzone).
Al Nasr Automotive Company and the National Automotive Company (NATCO), signed in March a shareholders' agreement to establish the first company specialized in the distribution and sale of electric cars in Egypt.
Minister of Public Business Sector, Hesham Tawfik who witnessed the signing of the agreement between at the Ministry of Public Business Sector headquarters, indicated that the new company will be the first and largest company in the field of selling, distributing and providing after-sale services, maintenance and warranty for electric cars, as well as providing financing and insurance solutions for electric cars that it will distribute.
The new company will also be the sole distributor of the locally-made car that El Nasr Company will produce in Egypt during 2023, in addition to different types and models of electric cars produced by international brands that the new company will import or distribute.
The National Automotive Company (NATCO) is the owner of the largest distribution network of Mercedes-Benz cars in Egypt, and it owns seven showrooms and service centers spread in Cairo, Giza, Alexandria, the North Coast and Hurghada.
The Nasr Automotive Company, affiliated to the Holding Company for Metallurgical Industries, one of the companies of the Ministry of Business Sector, is currently agreeing on the final details of the contract to license the production of its new electric car with the foreign partner under its "Nasr" brand.
The shareholder agreement stipulates that the issued capital of the new company will be LE500 million, with a participation rate of 76 percent for the National Automobile Company (NATCO), and 24 percent for the Nasr Automotive Company, provided that the management rights are for the National Automobile Company (NATCO).
---
---