Egypt already obtained development funds in preparation for COP27
22 April 2022 / News / 368 / Fares RAHAHLIA
---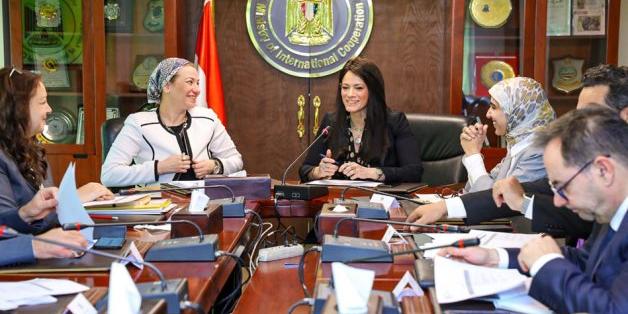 CAIRO - 21 April 2022: Minister of International Cooperation, Rania Al-Mashat said that successive meetings with development partners and continuous communication between technical teams resulted in many frameworks of partnership and cooperation under Egypt's presidency of the United Nations Climate Conference, whether at the level of technical support, or development funds, as well as events that will be organized as part of the Climate Conference and Finance Day events.
Al-Mashat explained that the continuous meetings with all national authorities and the continuous coordination with the ministries of foreign affairs, environment and finance aim to identify the axes of these partnerships within the framework of the directives of the Supreme Committee to host the climate conference headed by the Prime Minister.
The Minister of International Cooperation referred to the diversity of proposals submitted by development partners, including the World Bank, the African Development Bank, the European Bank for Reconstruction and Development, the European Investment Bank, the International Fund for Agricultural Development, the International Finance Corporation, and the United States Agency for International Development.
She explained the government's keenness to make the most of development cooperation efforts with international financial institutions to support climate action and green transformation efforts.
The Minister of International Cooperation spoke of the need to strengthen joint work with development partners to promote innovative financing, which is one of the catalysts for climate action, provide financing for developing and emerging countries to implement their national plans to combat climate change, and stimulate private sector participation.
She also drew attention to the second edition of the Egypt Forum for International Cooperation and Development Finance, to be held this year, which will represent an opportunity to gather finance and environment ministers and relevant parties at the regional and international levels, to enhance preparations for the United Nations Climate Conference, within the framework of effective development cooperation between the government and international institutions.
This came during her meeting with the Minister of Environment, Yasmine Fouad, their series of meetings to discuss proposals for cooperation with development partners within the framework of Egypt's presidency of the Conference of Parties to the United Nations Convention on Climate Change COP27, in the presence of representatives of the ministries of finance, environment and international cooperation.
---
---