Tunisia: First Tunisian satellite, Kais Saied renews congratulations to Telnet Group
05 March 2021 / News / 140 / Nessrine
---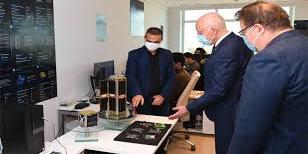 President of the Republic Kais Saied, on Thursday renewed his congratulations to the Telnet Group, which managed to design and develop Tunisia's first "Challenge One" satellite.
The Head of State, who paid a visit to the group's headquarters, praised the efforts made by skilled youth and employees of the holding company, whose average age does not exceed 25 years.
"These young people are a source of pride for Tunisia and its true wealth," he said during the visit, according to the Presidency of the Republic.
CEO of Telnet, Mohamed Frikha outlined to the Head of State the group's subsidiaries and the specialty of each, as well as the skills that have developed the Tunisian satellite "Challenge One".
This satellite, which will be launched on March 20, on the celebration of Independence Day, "is a gift to the Tunisian people, especially to the founders of the State of Independence, youth and Revolution," the President of the Republic said.
---
---