Tunisia:Investment opportunities at heart of Tunisia-UK Trade and Investment e-Forum [Upd 1]
Tunisia:Investment opportunities at heart of Tunisia-UK Trade and Investment e-Forum [Upd 1]
Agenda / 384 / Emerging Africa

22 October 2020 05h38 | en ligne
---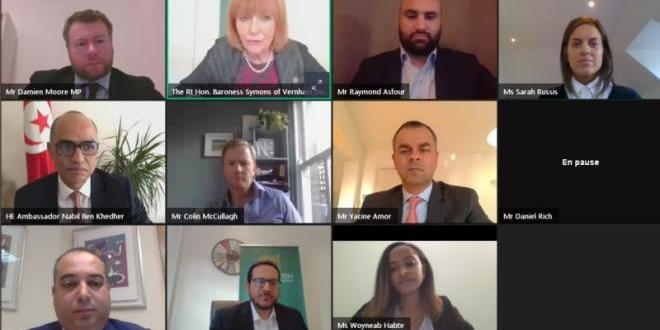 The Embassy of Tunisia in London in partnerhsip with the Arab British Chamber of Commerce (ABCC), the Tunisian British Chamber of Commerce (TBCC) and the British Department of International Trade, on Thursday, hosted the "Tunisia-UK Trade and Investment e-Forum."
Taking the floor, Rt. Hon. Baroness Symons of Vernham Dean, ABCC Chairman described Tunisia as a wonderful place to visit and do business and looked forward to the resumption of normal business once we are rid of the pandemic which she believed would be soon.
"The UK was clearly paying closer attention to the market evident in the recent appointment of a Trade Envoy for Tunisia and she was encouraged by the role of the new UK ambassador to Tunis who was dedicated to strengthening bilateral relations," she said.
The ABCC would continue to provide support with its partners and the dialogue between the UK and Tunisia would go on, she added.
In his keynote address Tunisian Minister of Economy, Finance and Investment Promotion Ali Kooli recalled the traditional ties between both countries and their joint willingness to preserve the momentum of the bilateral relations.
To this end, he said that Tunisia could be a real opportunity to many companies for an efficient relocation of their activities in the Mediterranean.
The richness of the ecosystem focused on new technologies an innovation and the respect of international norms and regulations are good reasons to truly believe in our partnership, he said.
"The relations between UK and Tunisia have been there since centuries as the first treaty regulating trade between Tunisia and Britain was set up in 1662 and since then our two countries have made significant progress in trade and investment reaching 1.7 billion dinars."
Kooli affirmed that he strongly believes that the two countries could even develop more the co-operation, through notably the Association Agreement signed in London between Tunisia and the UK "that will hopefully be ratified soon by the House of People's Representatives (HPR)."
"Today we have around 90 British companies in Tunisia, out of 3,600, they have trusted Tunisia and are employing nearly 20,000 persons in electronic, tourism, transport, insurance, etc., and are playing a significant role in the development of Tunisia's economy," he indicated.
The partnership is a win-win situation as investors could have good return and the country can benefit from investment and can use its labour, he added.
To reach that many have done great job especially the Foreign Investment Promotion Agency (FIPA) and the Tunisian Investment Authority (TIA) to support the investors, especially those coming from the UK.
Tunisia could be more than a single country, Tunisia could be a gate for Africa as it has signed several agreements including the Common Market for Eastern and Southern Africa (COMESA) one and could be a good opportunity for many British firms to reach those markets through Tunisia.
Speaking about the energy and environment field, the minister said there are many British companies working in this field in Tunisia and in order to develop a sustainable economic model, Tunisia has undertaken major reforms to tackle environmental issues with concrete measures for renewable energy production with the aim to reach with a mix of 30% by 2030.
Tunisia's participation in the 2021 United Nations Climate Change Conference (COP26), due on November 2021 in Glasgow, Scotland, will provide an opportunity to discuss a true partnership in energy transition, he pointed out.
"Tunisia is today a new democracy with a young, hopeful entrepreneurial spirit and a dynamic cultural and social life; these are additional incentives to believe in Tunisia and it is why by choosing Tunisia you are making a winning bet," he concluded.
For his part, Tunisia's Ambassador in London Nabil Ben Khedher pointed out the numerous achievements in key fields of co-operation between Tunisia and the UK, notably in education and higher education, governance, security and economy.
As regards the economic aspect, the ambassador considered that the Tunisian-UK Association Agreement, whose enforcement is scheduled for January 2021, will be a major vector for stepping up trade and partnerships between operators from both countries.
For this reason, he considered that this legal framework will help concretely convey the numerous opportunities to be seized in both countries, and the undeniable complementarity between the Tunisian and British markets.
During this meeting, President of the Tunisian-British Chamber of Commerce (TBCC) Jed Mrabet highlighted the strong ties binding the two countries; Tunisia being the first North African country to sign an Association Agreement with the UK, which will ensure preferential trade conditions especially in the agro-food processing sector and for industrial products.
"So let's work to make Tunisia the gateway to Africa and to develop the North-South partnership!"
"We are convinced that the recent appointments of the UK new Ambassador and the Trade Envoy to Tunisia will be profitable for all economic operators" while reiterating TBCC's commitment to step up business opportunities and work for the sustainable development of the Tunisian-British relationship.
Taking the floor British MP and Prime Minister's Trade Envoy to Tunisia and President of the All Party Parliamentary Group on Tunisia Damien Moore expressed delight at being appointed by the prime minster as Trade Envoy to Tunisia, which testifies to the UK's willingness to boost its relations with Tunisia.
"My work will also be facilitated by the UK Export Credit Agency UK Export Finance who recently increased their Risk Market Appetite for Tunisia to 2.5 billion pounds, and by the brilliant innovation and open mindedness and talent of the Tunisian people," he said.
The great partnership between Tunisia and the UK is demonstrated not only in the tropical cities, but also in the whole of both countries as we already have incredible examples of UK-Tunisian trade creating jobs outside of London and of Tunis such as the Clarke Energy based in Liverpool and have chosen Tunisia as their Africa headquarters.
"The country since the beginning of its democratic transition has shown an ability to implement impressive reforms and generate jobs and growth and in a desire to look beyond traditional partners, Tunisia has to offer so much more to the UK in several fields such as artificial intelligence, robotics textiles and renewable energies," he concluded.
Discussing Foreign Direct Investment (FDI) opportunities, Director of fDi Intelligence division at the Financial Times Group Sarah Russis provided a short presentation of the latest FDI transfer for Tunisia.
According to her, the UK is among the top 10 investing countries in Tunisia based on the number of invested project and on the capital investment, ranking 6th in both lists.
Regarding the top sectors investing companies from abroad invest the most in, financial services is the sector that attracts most of the projects, followed by software services, business services, renewable energy and textile.
As an example she stated a recent project in renewable energy from Scatec Solar Company from Norway as they invested an estimated 130 million pounds in a 360 megawatt solar power plant in three cities in Tunisia (Tozeur, Sidi Bouzid and Tataouine).
Speaking about the top destination cities in Tunisia by project numbers, Russis indicated that Tunis and Sousse are the two cities that attract the most investment projects, followed by Bizerte, Sfax, Monastir, Beja, Tozeur, Gabes, Rades and Sidi Bouzid.
As for the top motives to invest in Tunisia, the official placed emphasis on the domestic market growth potential, the skilled workforce availability and the proximity to markets or customers.
According to her there are also intention to invest in Tunisia, as in June 2020 PepsiCO had announced an intention to invest in Tunisia.
Taking the floor, Market Development Manager at the Tunisia Export (CEPEX) Mohamed Ikbal Khaldi discussed the development situation of trade between Tunisia and the UK.
"Trade between our respective countries is still not at the level we hope it to be, as the volume of exchange nears 450 million pounds (250 million pounds of exports and 200 million pounds of imports) and does not reflect the solid political and historical relations between our countries," he indicated.
The Association Agreement when ratified will boost the export as there is great potential of around 185 million in potential of exports and similarly for imports that could be developed together, he added, urging politicians from both countries to start consultations on a new bilateral free trade agreement that includes more sectors.
In this respect, Director for UK & Ireland for OCO Global Colin McCullagh stated that there is a lack of awareness of the UK market opportunity among Tunisian companies and unfair perception of Tunisia in the UK.
"We started developing a market opportunity report and delivering workshops so that Tunisian companies know that UK is actually a really good market for some of their projects," he said.
"We brought about 15 to 16 agro-businesses over to London, and 6 into Tunisia, so we quickly signed deals for Tunisian companies as we created a 6-month market acceleration programme to hand select companies that we felt their products could be sold in the UK and we have created opportunities with women-led businesses and regional clusters," he pointed out.
"We will be working with olive oil cluster to help them exist in the European competition and opportunity for Tunisian olive oil in the UK," he added.
In this respect, Director of the Artisan Olive Oil Company Ltd Yacine Amor said that Brexit offers a unique opportunity to significantly establish business between Tunisia and the UK around food and agriculture.
"There is high focus on management of supply chains related to supply, currency and customs, which means that Tunisian products that are competitive in packaging and quality are very appealing to those retailers," he indicated.
According to him, Tunisia can offer products with higher and more sustainable incomes so the opportunities are big and retailers are open to discuss and find new suppliers.
Concluding this webinar, Principal Portfolio Manager at the Development Partners International LLP Jean Philippe Syed said that Tunisia has a very educated population with an entrepreneurial spirit and the recent market evaluation in Tunisia is very competitive compared to many countries in Europe.
"Because of trade agreements and its geographical positioning, Tunisia is very posed for exports to Europe and the rest of Africa," he indicated.
According to him, Tunisia is a very exciting place for investment given the strength and depth of its capital market.
"Tunisia is a fantastic place to invest in," he said in in conclusion.
---
---