Egypt : Cairo ICT 2020 themed 'The Big Reset' to be held on Nov. 22-25
Agenda / 400 / Emerging Africa

22 November 2020 00h00 25 November 2020 00h00 | Cairo ICT Exhibition
---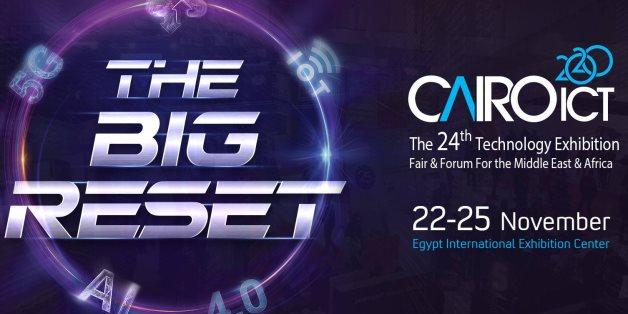 CAIRO – 7 November 2020: The 24th edition of Cairo ICT Exhibition themed "The Big Reset" will be held on November 22-25 under the auspices of President Abdel Fatah al-Sisi.
Exhibitors include Orange, BENYA, Huawei, e-finance, Dell, Microsoft, SISCO, and others.
A number of seminars will be held on the sidelines. For the seventh year in a row, the Payment, FinTech, and Digital Inclusion Fair and Forum (Pafix) sponsored by the Central Bank of Egypt (CBE) and e-finance will take place.

The third edition of "Trans MEA" will be held by the Ministry of Transportation to present investment opportunities pertinent to technology-based transportation solutions.
The sixth edition of Defense, Security and Public Safety Technologies Fair and Forum (DSS), and the fifth edition of Innovation Arena will take place either.
"Information and Communications Technology (ICT) sector was able to achieve a growth rate of 15.2 percent during fiscal year of 2019/2020 despite the coronavirus pandemic, ICT Minister Amr Talaat stated Tuesday.
Talaat explained that the crisis caused by the emerging coronavirus has resulted in opportunities to learn and work from a distance; pointing out that distance learning gave the ministry the opportunity to double the number of trainees, in line with its efforts to double the branches of training institutes in the governorates.
This came during closing events of the training year 2019-2020 organized by the Information Technology Institute (ITI) under the title (Young Egyptian Minds).
The minister added that job opportunities in their traditional form will always be limited within the scope of the local economy, hence the importance of working remotely through freelance platforms that contribute to removing borders so that the labor market becomes the entire globe.
He pointing out that the current crisis has contributed to changing management systems towards accepting the work culture remotely; this is coupled with the acceptance by countries with active markets for this model of work, as it provides them with the benefit of expertise and bridges their skill gaps without the need to actually host these skills on their land.
Talaat explained that there are many opportunities and training programs provided by the Ministry and its affiliates to improve the digital skills of youth, as the training opportunities provided were increased from 4,500 opportunities in 2018 to more than 100,000 opportunities in 2020.
He pointed out that there is a current trend by the Ministry of Communications and Information Technology to include self-employment skills to prepare independent professionals as a main focus of all training courses. He emphasized his confidence in the ability of Egyptian youth to compete in global markets in the industry of independent professionals.
---
---