Nigeria-Student's Death: After parents' appeal, Lagos reopens Chrisland school
28 March 2023 / News / 96 / Admin-23
---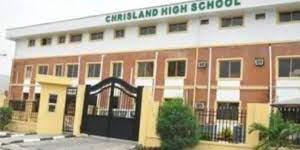 Student's Death: After parents' appeal, Lagos reopens Chrisland school
The government disclosed Friday that a case of involuntary manslaughter, reckless and negligent acts have been established against the school and other suspects
The Lagos State Government has approved the reopening of Chrisland High School, Ikeja, seven weeks after it ordered its indefinite closure over the death of a 12-year-old student, Whitney Adeniran.
The latest development followed an appeal by the Parents of all Chrisland School Units who visited the Ministry of Education on Monday to seek the government's understanding for "the sake of 500 plus students some of whom also have terminal examinations."
However, the state's Commissioner for Education, Folashade Adefisayo, said in a letter addressed to the management of the school on Monday that the government has considered reopening the school only for students in "terminal classes i.e JSS 3 and SS 3 to enable them to prepare for their upcoming exams."
The letter, referenced: MOE/HC/VOL.1/039, and personally signed by Mrs Adefisayo, also invited the school management "to a meeting at the Conference Room of the Ministry on Thursday, 30 March at noon."
Parents appeal
Following the controversies surrounding the death of the student who died during the school's inter-house sports event on 9 February, the Lagos State Government ordered the shutdown of the school on 12 February and a coroner inquest to investigate the cause of the death was ordered.
The government subsequently confirmed that an autopsy conducted at the Lagos State University Teaching Hospital (LASUTH) revealed that the deceased died from "asphyxia and electrocution".
While the parents of all Chrisland School units across the country under the auspices of the Parents Teachers Association (PTA) have commiserated and admitted that a coroner's inquest was ongoing, they have continued to appeal to the government to consider other students of the school.
The parents said in their letter that the other children shut out of the school over the unfortunate incident "are suffering mental distress and trauma from losing a fellow student."
The statement read in part: "Chrisland PTA hereby cries out in the interest of her children who are suffering great mental stress and disillusionment over the current state of impasse. It should be noted that a lot of these children require psychological intervention as most of them are still suffering from the emotional trauma of losing one of their fellow students and cannot understand why they are at the same time being punished by the Government for the same occurrence.
"The PTA has been offering moral support and empathy to the Adeniran family over this unfortunate and heart-breaking incident. While we continue to sympathize with the Adenirans and pray that God will continually uphold them, we call on His Excellency, the Executive Governor of Lagos State, Babajide Sanwo-Olu, to kindly and urgently consider the passionate appeal of all Chrisland parents and the cry of over 500 children who have sadly been grounded at home for upward of seven weeks now and reopen Chrisland High School Ikeja without further delay".
---
source: https://www.premiumtimesng.com/
---