Nigeria's Cocoa Output May Drop Over Weather, Rising Input Cost
27 September 2021 / News / 92 / Fares RAHAHLIA
---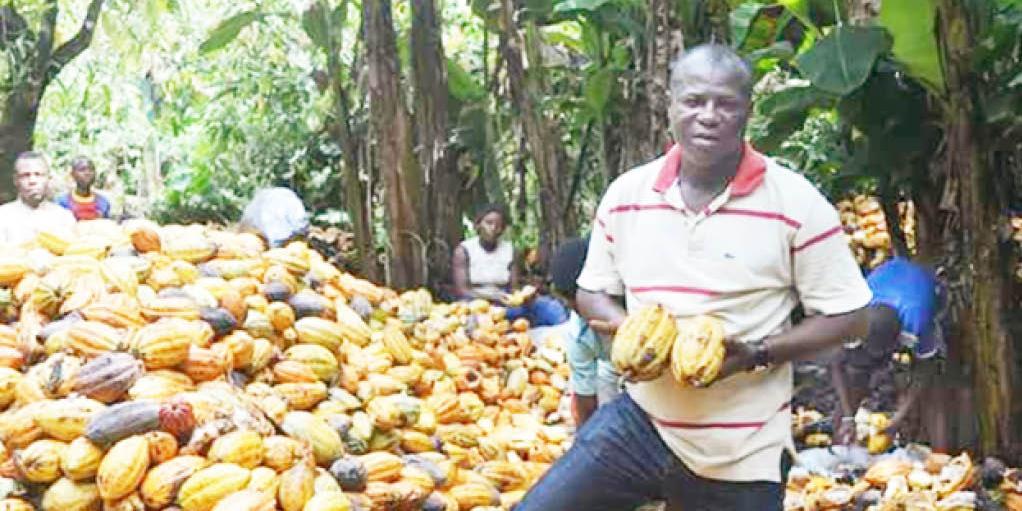 Nigeria, the world's fifth-biggest producer of cocoa, could see its output of the bean fall in the new season on the impact of weather and rising costs of inputs, farmers and industry, operators have said.
The 2021/22 harvest begins next month with the main crop season, but the output could fall by as much as between 5 and 10 percent of last year's production, Robo Adhuze, the Chief Executive Officer of Centre for Cocoa Initiative, an Akure-based NGO that promotes cocoa business in Nigeria, told Daily Trust on Sunday.
While he blamed the expected decline partly on the weather, he explains that the negative impact derives from the long-drawn dry spell of last year. The dry season, he said, exerted pressures on the cocoa trees.
"It was dry last year for a long period. That puts a lot of stress on the trees. They had to bring up more effort to produce last year. This means that this year will suffer that pressure," Adhuze explained.
For several years, cocoa has ranked as Nigeria's second-biggest foreign exchange earner, after crude oil. In 2018, Nigeria's earnings from cocoa were put at over N103 billion. The country produced about 270,000 metric tons last year, in the 2020/21 year, up from 250,000 in the 2019/20 season. Adhuze said this year's output could fall to 250,000.
Farmers, merchants, and other stakeholders in the cocoa industry said the projected decline in output could further lower Nigeria's global and regional ranking in cocoa production. Nigeria's current fifth position reflects a downgrade from its third position previously, just behind Cote d'Ivoire and Ghana, a few years ago. Now the country also trails Ecuador and Cameroon among the producers.
Recent production figures say Cote d'Ivoire produced over 2m metric tons last year while Ghana produced close to a million tons. While Cameroon is ahead of Nigeria in cocoa output, some sources say it is difficult now to give a figure for its production because of the war in the southern part of that country, where cocoa is largely grown.
However, Adhuze said that cocoa from Cameroon flows freely into Nigeria from the southern part. "They don't smuggle cocoa into Nigeria, they carry cocoa into Nigeria."
In Cross River State, Nigeria's second-largest cocoa-producing state, farmers and other industry stakeholders who spoke on their outlook for next season, said that the imminent poor harvests this year may also impact costs of beverage, allied products as well as returns to investors who funded local or smallholder cocoa farmers.
Those of them that borrowed money from lenders, including banks, as many normally do to help the farmers cultivate or nurture their plantations in order to expect bountiful yields, are already worried, they said.
Farmers in Ikom, the leading cocoa town in the state, are worried that inadequate rainfall could reduce output in the new season. They are particularly worried over the fact that most of their cocoa trees are old and that their strength can no longer yield much, except there is enough rainfall.
The old age of Nigeria's cocoa trees is indeed impacting negatively on output, says Adhuze. The projected decline in output would have been higher, but for the fact that some new plantations came into commercial production this year. "Otherwise, if it were just the same old cocoa trees alone, the drop could be up to 12 to 15 percent," he said.
Cocoa merchant, Godwin Okwu, agreed with other stakeholders, saying they may not expect much in terms of cocoa yield this year due to very poor rainfall.
"Rain is a big factor in cocoa yield. In our state, most of our cocoa farms are more than 40 years old. Our cocoa is old. The estates were planted when Sir Michael Okpara was the premier of the former Eastern region in the mid-1960s. The estates therefore need lots of rainfall to be healthy," Okwu said.
"Young farms do better because they still have the energy to withstand the drought. As it looks, promises of better cocoa yields this year are lean because up till this time of the year we do not have reasonable rainfalls. Farmers may not break even as a result."
In Ondo State, Nigeria's number one cocoa-producing state, a farmer, Alhaji Idris Fatai, admitted that last year's dry season affected this year's production.
While Alhaji ldris said this year's rain has been encouraging, an indication that production would be good, Adhuze noted that the impact of this year's weather may be felt next year.
Besides the weather, farmers say they have also been challenged by rising prices of chemicals they use on the farmer. The chemicals are used to treat different diseases that attack cocoa trees and pods. Among these is the Black Pod disease, which, as the name suggests, attacks the cocoa pod.
Responding to inquiries, a cocoa farmer, 51-year-old Richard Ndoma who hails from Akparabong community in Ikom, said apart from rain and poor accessibility of funds, inadequate inputs like chemicals to attack cocoa enemies are scarce.
The chemicals, he said, are no longer within the reach of local farmers.
"Lack of money to procure cocoa chemicals is one big factor. Chemicals like Nodox, Cocobra sandbox, Rodomile, Blue Stone, used for prevention of diseases, including black pods and fungicides have become expensive. As a result, their prices have skyrocketed, so that is something to worry much about."
"Seven years ago, a Rodomile sachet was sold for N250, now it is N600. Cocoa Bra Sandos sachet, which about 5 years ago sold for N100, now costs N400. A 50-kg of BlueStone used to get rid of black pods goes for N20,000 as against N5000, in the same time earlier."
Ndoma also complained over the high cost of labour to cultivate, nurture and weed the farms.
Mr Olayiwola Saibu, who has a farm in the Ibuji Farm Settlement in Ifedore local government area of Ondo State, told Daily Trust on Sunday that farmers pay each labourer between N170,000 and N200,000 annually to work on the farm. "We also feed and clothe the labourers," he said.
Ndoma corroborated Saibu's claim. "The high cost of feeding workers while they are in the plantations isn't easy. Usually, when workers are in the plantation working, it's expected that the farm owner provides food and medicine for workers pending when they complete the job," he explained.
He said the issue of transportation of cocoa pods after harvesting from the plantations and then breaking them to places where the beans can be dried for subsequent sale, is something that gives every cocoa farmer lots of worries.
Farmers in Ondo face similar challenges, they said. According to Saibu, the lack of access roads to the farms, especially during harvest season, is forcing the farmers to patronise commercial motorcyclists, which costs more than the use of buses.
These stakeholders who spoke on the country's outlook maintained that the imminent poor harvests this year may also impact costs of beverage, allied products as well as returns to those that funded local or smallholder farmers.
Small-time cocoa farmers, for instance, who had borrowed money from lenders, including banks as many normally do to help them cultivate or nurture their plantations in order to expect bountiful yields, are already holding their hearts in their mouths.
Okwu stressed that lack of access to finance is one other factor facing the farmers, and called on the government not to be interested only in collecting rents and dues but to create an environment that eases access to funds for the farmers
He advised that in order to regenerate cocoa farms, farmers should plant younger and high-yield varieties near or in between the older ones, instead of cutting down older trees. "Then in three to four years, brand new farms with vitality would emerge. The young farms will then be able to yield much," he noted.
The governments of both Ondo and Cross River have shown determination to support the cocoa industry in states.
Special Adviser to Governor Ayade on Cocoa development and control, Oscar Ofuka, says that following the cocoa revolution embarked upon by the government, Cross River will soon become a major cocoa producer in Africa, not just Nigeria. He said cocoa is the gold mine of the state, adding that the prospects for cocoa are very high.
The state's cocoa processing factory in Ikom, the bastion of cocoa in the state, started producing chocolate bars and allied products in commercial quantities recently.
Taoj Nigeria Limited last week received N80 million from Sterling Bank to boost cocoa agribusiness in the state. NIRSAL plc facilitated and guaranteed the facility and will provide technical assistance and round-the-clock monitoring of the credit application.
On its part, Ondo is poised to retain its premier position on the country's cocoa table.
Governor Rotimi Akeredolu recently reiterated his administration's commitment to boosting cocoa production. He announced that the government had cleared 10,000 hectares of land at Jugbere in Owo local government area of the state for the cultivation of cocoa
---
---