NIGERIA:Inside World Of Nigeria's Florist Entrepreneurs
07 September 2021 / News / 132 / Fares RAHAHLIA
---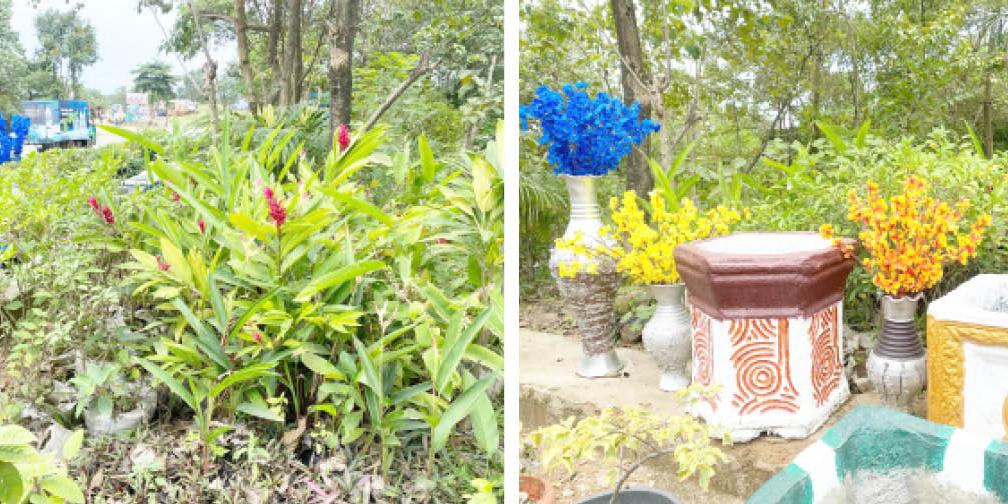 For a very long time, Nigerians were attuned to using artificial flowers for both décor and gifts. But recently, a lot more people have begun to appreciate real flowers and the natural beauty it comes with. Daily Trust reports on the booming business of horticulture which is gaining ground around the country.
In many Nigerian homes, families have taken it upon themselves to be one step closer to nature by designing their living rooms, dining and kitchen with natural plants. It is now common to work into any office building and find potted plants littered everywhere.
An interesting fact about flower arrangements whether indoor or outdoor is that they offer more than just making the place look beautiful, they are also good for our health. Studies have shown that certain indoor plants, if kept in your study or by your workstation, can lead to an increase in concentration and improvement by 15 per cent. Certain plants also help to get rid of impurities in the air, therefore leaving you to breathe clean and fresh air around you.
Mrs Lizzy Ikekpeazu is a horticulturist. At her garden located along the Idu Railway road Abuja, she grows and sells beautiful flowers which can serve both as decoration and also offer various health benefits.
"We grow roses, king of the day, queen of the night, special species of jasmine and lavender. We also have plants that serve as medicine such as the custard-sugar apple which is good for the heart, stevia which can serve as natural sugar for people who are diabetic. We also grow economic plants such as strawberry, pomegranates, coconuts, guava. We have flowers which can also serve as air freshners and cleanse the air of impurities," she said.
Asides from being a lover of nature, Mrs, Ikekpeazu is an employer of labour through her garden. She has workers who are paid and taught how to take care of the plants, grow them, make vases and also design them. She explained that "At an international trade fair I attended, I saw vases beautifully crafted by artisans and moulders from other countries and I knew that if we empower the people around us, we can move the economy of this country forward. It will interest you to know that certain plants grown here are bought and exported abroad, so imagine how much we can push the country further if we had more people in the horticulture business."
The plants and flowers in her garden are all affordable. She mentions that "To purchase any plant at the garden is between N1500 and N2000. We have indoor plants that range from N1500 to N10,000, and our vases which are all Nigerian-made range from N1000 to N35,000. We also grow a plant called Noni which helps to clear the eyes. We sell a litre of it for N5000."
According to Mrs Ikekpeazu, a fair percentage of Nigerians are green fingers therefore she's lucky to have customers who buy from her regularly. She states that; "Aside from the fact that flowers beautify the environment, I have a lot of customers who buy my medicinal plants to stay fit. I've had people buy plants worth N70,000 just because they are assured of what they'll benefit from it health wise."
Although business is booming for Mrs Ikekpeazu, she experiences challenges such as theft, security and high cost of maintenance. She further explained; "A lot of times, people steal plants and the equipment we use to work. Also, some people who don't know the value of flowers often come and price the flowers at a low rate and if we keep entertaining such customers, the business is likely to run at a loss because maintaining plants is not cheap and you also have workers to pay."
Mrs Sanyaolu who is a Lagos-based florist said that her passion for horticulture goes as far back as 1984. She revealed that for a greater part of her life, she has identified herself as a green finger because of the passion she has for flowers and plants. "Before starting my business, I used to plant around my house. I had friends who will bring flowers from abroad and I'd go about collecting stems of different flowers and then arrange them in a vase at home.
I'd have guests come over and applaud my handwork. Then, I started flower arrangements for friends and family, and before I knew it, I was getting contract jobs from companies and even the government to come and set up flower pots in their various offices," she added.
According to her, the horticulture industry experienced a 300 per cent inflation on the prices of flowers and plants generally, and because of that, she had to quit the importation of flowers and started growing within Nigeria. "Although my business is in Lagos, I have a garden in Osogbo where I grow and treat different kinds of flowers."
She, however, stated that flowers grown and treated in Jos, Plateau State, are very similar and as durable as the imported flowers.
"When I was into importation of flowers, I used to source my flowers from England, South Africa and Kenya. At the garden in Osun, we grow local roses, orchids, porcelain roses, ruellia and also some indoor plants," she said.
Sanyaolu sells different kinds of flowers at her shop which include Chrysanthemums, roses, pink and red ginger rose, orchids, church lilies, indoor potted plants etc. "Depending on the sizes of the rose, a bag of roses can cost between N3000 and N10,000, Red ginger goes for N500 – N1000 per stem, Porcelain roses are N1000 -N2000. Indoor potted plants range from N5000 – N10,000. We sell our orchids in bags or containers; the bags start from N1000 and the container from N5000."
Because Mrs Sanyaolu is a firm believer of patronising Nigerian brands to better the economy, she also sources locally made pots for her flower arrangements which she says are as durable as the imported ones. "Depending on the size, imported pots range from N50,000 – N100,000 while the locally made ones range from N5000 – N15,000."
Although people celebrate occasions every day, Mrs Sanyaolu noted that her peak sales season is Valentines. "During valentine season, the increase in demand for flowers is so high that people don't just settle for roses but will get what is available." she also revealed that Lagos, Abuja, Port-Harcourt and Calabar are the cities where the florist business is booming.
"To be in this business, you must have passion for growing and tending flowers otherwise you won't find it easy. Putting into consideration the cost of importation, I believe its better to grow and sell what we get from our soil because it's cheaper and more durable. The red ginger and orchids which we grow in Nigeria can last up to 10 days while the imported ones last up to five days."
"We have lots of beautiful flowers that grow in Nigeria, but because we are lazy and not willing to put in the extra work that comes with gardening and planting of flowers, people just prefer to buy, add their profit and resell," she added.
Larisa Oyeleye, another florist based in Abuja, mentioned that the horticulture business is very profitable. she noted that "People celebrate birthdays everyday and their loved ones will want to surprise them with flowers. Companies and even catering services who send out breakfast trays always add flowers to their packages. So, you're sure of making sales one way or the other."
Larisa started her florist business while looking for employment. "I had just finished my NYSC in 2017 and was searching for jobs when I decided to turn my passion for flowers and plants into a business. People who I had spoken to about it didn't find it to be a profitable business but that didn't stop me from starting up the business. If I can recall correctly, I started my business with N200,000 that year."
Larisa sells Eternity flowers which include roses and hydrangeas. They are called eternity flowers because they are fresh flowers which have been treated to last up to a year. "All our flowers are imported and sourced from the US and Ecuador," she mentioned.
Because of the treatment being used to preserve these flowers, they are more expensive than the regular imported flowers. Larisa mentions that "A regular rose stem goes for N3500, the eternity flowers range from N8000 for a box and N15,000 for a bouquet. The price might vary depending on the size of box being used for the flower arrangement."
Larisa, who revealed that people buy flowers more often than people think, told Daily Trust on Sunday that she has enough customers who buy flowers from her regularly. "We have customers who buy on a daily basis for their celebrations. We also have our peak season during Valentine. The increase in demand and sales during valentine is so high that we usually start planning from November just to make sure that we can meet up with the needs of our customers."
Larisa admitted that being a florist can be profitable, but one must show sincere dedication to the business and it can also be capital intensive. She further explained that "to be a florist, you must have background knowledge of flowers and plants. How to care for them and not let them die out."
"In 2017, it cost me N200,000 to start my business. Now, for anyone who wants to start up the business, I'd advise they have at least N300,000 or N400,000. This depends on if the individual decides to import the plants. However, I always advise people to buy from people who already sell flowers and then add their capital to it. Its best for them to do so until they have enough financial means to start importing," she added.
Kobiba Elshaddai, who manages a flower shop in Abuja, noted that importation of flowers is very expensive. She further explained that; flower importation is costly because flowers are perishable and are tagged as fragile goods therefore more care is given to it. Also, the dollar rate keeps going up which will lead to an increase in price when converted to naira."
She also explained that running the business isn't as easy as people perceive it to be. "Because flowers are perishable, we try not to keep them for long if not they would spoil. Often times, we offer pre-order arrangements to our clients so we don't keep them in store until they spoil," she stated.
At the shop, Kobiba sells mostly roses and lilies. "We work based on customers arrangements and budget, and the least price for a stem of rose we sell is N2500. So, if a customer wants a full box, we multiply the number of roses by the price of one to arrive at a total cost. Lilies are a bit more expensive than roses with maybe N1000 or N2000 difference".
Just like Larissa, Kobiba advises that whoever wants to go into the florist business should start with buying from people who already sell or better still start with the locally produced flowers as those are equally patronised by customers.
Grace Umeh, another green finger, told Daily Trust on Sunday that she has potted plants in different spaces within her house. She noted that every three months, she's likely to purchase a new plant to replace the ones that have worn out. "I love keeping plants around me as they beautify my environment and help filter the air around me. The least price for the potted plants in my house is N6000. Regardless, I never look at the cost of the flower. If it's beautiful, I will purchase it."
---
---