Morocco's BMCE, Trade Organization in China to Boost Financial Cooperation
19 October 2020 / News / 248 / Emerging Africa
---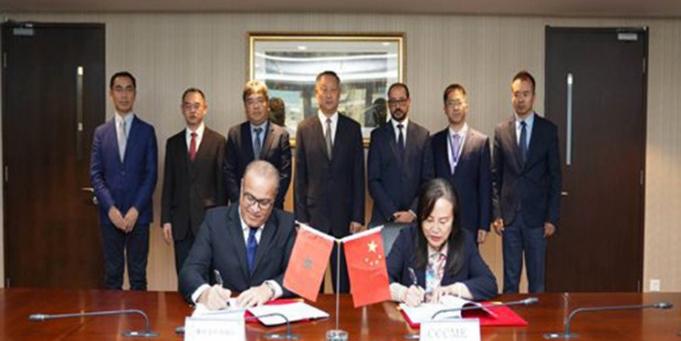 Rabat – Morocco's Bank of Africa (BMCE Group) signed a partnership agreement with the Chinese Chamber of Commerce for the Import and Export of Machinery and Electronic Products (CCCME) on Monday in China.
The two institutions signed the Memorandum of Understanding (MoU) in Beijing.
The agreement seeks to consolidate cooperation between BMCE and CCCME in financial and commercial operations.
The partnership agreement also seeks to establish "milestones for a lasting cooperation between the Moroccan bank and members of the CCCME by offering them trade finance and corporate banking products adapted to their business needs," BMCE said as cited by Morocco's state media.
BMCE signed the agreement through its branch in Shanghai.
CCCME is one of the major chambers of commerce in China, with 10,000 members who make up 60% of China's total exports, according to BMCE.
Vice President of CCCME Liu Chun and the General Manager of BMCE's branch in Shanghai, Said Arden, signed the agreement.
Advisor at Morocco's embassy in China, Reda Oudghiri, attended the signing ceremony, along with CCCME President Zhang Yujing.
The agreement reflects the strong diplomatic relations between China and Morocco, who continue to vow to reinforce cooperation in all fields.
This year marks the 60th anniversary of Moroccan-Chinese diplomatic relations.
After King Mohammed VI's visit to China in 2016, the two countries vowed to strengthen collaboration in several sectors, including tourism.
The number of Chinese tourists visiting Morocco increased between 2016 and 2019, reaching 350,000 annually after Morocco's decision to remove a visa requirement.
Statistics about trade between Morocco and China also reflect strong cooperation between the two countries.
Trading Economics said Morocco's exports to China stood at $283.21 million in 2019.
---
source: moroccoworldnews.com
---