Moroccan-Hungarian Talks on Fostering Cooperation in Transportation and Road Safety
15 March 2020 / News / 295 / ABI 1
---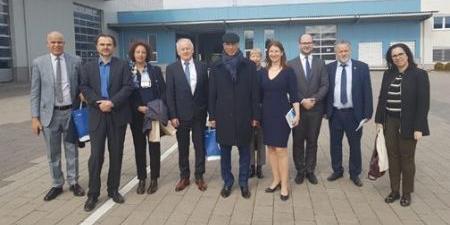 Minister of Equipment, Transport, Logistics and Water Abdelkader Amara met, on Tuesday in Budapest, with Secretary of State for Transport in the Hungarian Ministry of Innovation, Technology and Road Safety Laszlo Mosoczi, on means to strengthen cooperation between the two countries in the fields of transport and road safety.During these talks, which took place in the presence notably of Moroccan ambassador to Hungary Karima El Kabbaj, the two officials expressed their desire to strengthen bilateral cooperation in the transport and road safety sectors, and to set up mechanisms to use the potential of both countries in these areas.

Amara presented, on this occasion, the opportunities of cooperation that Morocco offers in this field, given its strategic position as a link between Africa and Europe.
Moroccan-Hungarian cooperation in the transportation sector is governed by an agreement on international transport which entered into force in 2000, said the minister, stressing the need to further strengthen this cooperation.
Amara also proposed to set up a joint cooperation committee between the two countries, which will meet periodically to assess what had been accomplished and follow up on the agreement between the two countries.
Mosoczi, for his part, expressed Hungary's will to broaden its cooperation with Morocco in the field of transport, which is governed by a memorandum of understanding and a cooperation agreement, particularly in the area of international and rail transport.
The Hungarian official stressed the need to speed up the process of sharing experiences and visits so as to meet the aspirations of the two countries.
---
---