Energy Minister speaks to ambassadors of Iraq and Qatar on boosting bilateral cooperation within OPEC
Energy Minister speaks to ambassadors of Iraq and Qatar on boosting bilateral cooperation within OPEC
24 August 2017 / News / 832 / Emerging Africa
---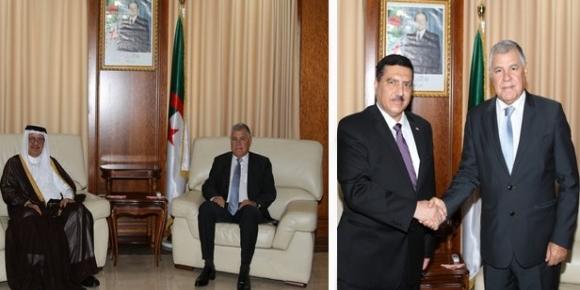 Algerian Energy Minister, Mustapha Guitouni, has received on Wednesday, his Iraqi Ambassador to Algeria, Mr. Abdurrahmane Hamed Mohamed Al-Husseini, and the Ambassador of Qatar to Algeria, Mr. Ibrahim Abdelaziz Essahlaoui, the Ministry said in a statement.
Mr Guitouni and Mr Al-Husseini have both reviewed the quality of the cooperation relations between both countries in the field of energy and the means of strengthening them, welcoming the traditional and historical ties between both countries.
The ambassador has reiterated "his country's commitment to respect its production quotas and to support efforts of OPEC and non-OPEC countries to stabilize oil markets in the medium and long term".
Both sides have also discussed bilateral relations and the prospects for cooperation and exchange of Algerian experience in the fields of gas, hydrocarbons and training which are of particular interest to the Iraqi side, the source added.
On the other hand, discussions with the Ambassador of Qatar, Mr Essahlaoui, focused on the quality of cooperation and partnership relations in the energy field, as well as business opportunities and future prospects for investment in structuring projects in Algeria, in particular as regards the exchange of experience and transfer of know-how in the field of liquefied natural gas.
To this end, the Minister requested Qatar's support for the establishment of a gas institute in Algeria, within the framework of cooperation between the member countries of GECF (Forum of Gas Exporting Countries).
The evolution of international oil market was also addressed by both parties, who insisted on the need for coordination and cooperation between OPEC and non-OPEC countries for stabilization and recovery of the market, the statement said.
---
---