Electricity/Africa: Morocco Ready to Share its Know-how in the Framework of South-South Cooperation (Official)
Electricity/Africa: Morocco Ready to Share its Know-how in the Framework of South-South Cooperation (Official)
08 March 2020 / News / 417 / ABI 1
---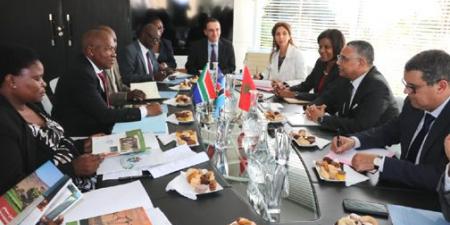 Morocco is committed to sharing its expertise with African countries in the area of electrical trades as part of South-South cooperation, said Monday Director General of the National Office for Electricity and Drinking Water (ONEE), Abderrahim El Hafidi.This came during talks with a large delegation led by Minister of Energy of Botswana, said a statement from the ONEE, adding that this meeting is part of the World Bank's program aimed at supporting the governments of South Africa with a view to promoting renewable energy programs.

ONEE is committed to continue strengthening cooperation with Botswana, El Hafidi pointed out.
He also shed light on the Kingdom's energy strategy, the projects carried out in the electricity sector and the model adopted by Morocco as part of "the exemplary solidarity" between ONEE and the Moroccan Agency for Sustainable Energy (MASEN) for the development and integration of renewable energies in electrical systems.
El Hafidi also mentioned the program to generalize access to electricity in rural areas "which was carried out in record time", the source said.
For his part, Botswana's minister of Energy highlighted his country's electricity model which is mainly based on fossil energy, noting that Botswana seeks to develop renewable energy projects, in particular solar energy and its integration into the electricity grid.
---
---