Egypt to receive 3 million Pfizer vaccine doses on Friday
25 March 2022 / News / 289 / Fares RAHAHLIA
---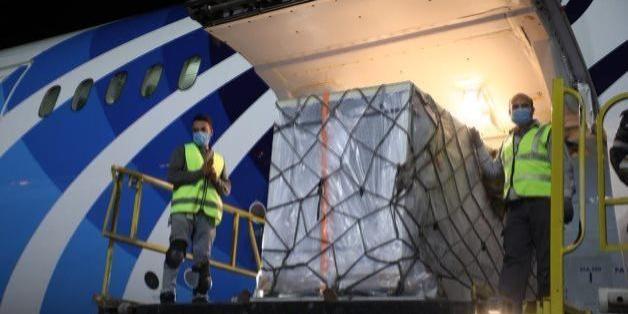 CAIRO – 24 March 2022: Cairo International Airport will receive on Friday 3 million doses of the Pfizer vaccine to be distributed to vaccination centers across Egypt, the Egyptian Ministry of Health announced.
Hossam Abdel Ghaffar, the ministry's official spokesman, confirmed that this vaccine shipment will be examined in the laboratories of the Egyptian Drug Authority before being distributed to vaccination centers in all governorates.
Pfizer vaccine is approved for emergency use by the World Health Organization and the Egyptian Drug Authority and consists of two doses 21 days apart.
Egypt has received millions of Pfizer vaccine since last year as part of its comprehensive strategy to vaccinate 70 percent of the target population by mid-2022.
Last month, Egypt received a new shipment containing 2,158,650 doses of Pfizer coronavirus vaccine at Cairo International Airport.
The number of people who are fully vaccinated against coronavirus reached 31,551,587, the ministry said on Saturday, urging citizens to register their information at the ministry's website: https://egcovac.mohp.gov.eg/#/registration to receive the vaccine.
"Coronavirus vaccines contribute to protecting all family members from severe infections with coronavirus and its variants," the ministry said, addressing citizens.
The ministry also stressed that the Egyptian state spares no effort in providing vaccines to citizens for free within the framework of the ministry's keenness to protect the health of citizens.
The ministry said that the average number of daily coronavirus infections and deaths has hit 788 and 12 respectively this week.
In a statement, the ministry said the average number of daily recoveries reached 766 people after they received the required medical care, recording a total of 430,198 recoveries since the start of the pandemic.
---
---