EGYPT:Innovated by Mountain View: Heartwork introduces its unique office building HQ500 for an
EGYPT:Innovated by Mountain View: Heartwork introduces its unique office building HQ500 for an
02 September 2021 / News / 132 / Fares RAHAHLIA
---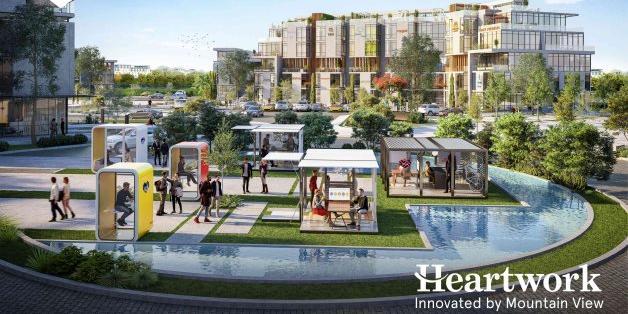 As innovation is a hallmark of today's society affecting all industries, business owners came to the realization that they should provide an ideal workplace environment to bring the best out of their employees. Heartwork innovated by Mountain View, introduced its revolutionary "HQ500" as a part of its top-notch business hub, to boost employees' production and unleash their creativity. The customized stand-alone buildings are setting new records in terms of design and quality.
Backed by the world's first Culture coach-sulting company, DH, and the leading global architecture, planning and design firm, CallisonRTKL, Heartwork is the first international business hub in Egypt, designed to afford high levels of luxury and convenience of innovative solutions and privacy to all business types. The hub has become a true synonym for innovation, with world-class quality standards in architecture and "Science of Happiness"
Heartwork, innovated by Mountain View, offers various innovative business products such as the (HQ500i & HQ50) and its latest HQ500; diverse standalone buildings ranging from 180 sqm up to 360 sqm with 3 different types to cater to small, medium, and large enterprises. The new standalone buildings offer personalized branding, outdoor spaces, front porch, roof and even private entrance; each building is complemented with mesmerizing nature scenery and green areas, private business pods as well as private parking space. Now business owners who seek growth and elevated productivity have the needed space for networking to get inspired within their communities
The visionary developer has learned to create the optimum work-life atmosphere through its four main pillars of happiness; Heart, Mind, Body, and Soul which should exist in every workplace. According to DH, some top-notch large international entities have proven that the science of happiness increases the productivity to 21% , 41% retention with adding and creating the science of happiness, your business will grow up to 37% sales!

The 'Heart Zone' features bonding areas, where employees have access to open spaces to improve their wellbeing and productivity. The 'Mind Zone' enables the employees with the luxury to connect and disconnect upon their needs, featuring tech-free zones, private spaces let alone the exceptional scenery and Co-Lab Think Boards. While the 'Body Zone' offers healthy food outlets and fitness utilities as well as unconventional workspaces to boost the employees' energy level and help them achieve their goals efficiently. Integrating all the other three pillars, the 'Soul Zone' is essential for nurturing happy souls to garner satisfying work outcomes through providing curated art and meditation areas to help feed employee's souls.
Heartwork HQ500 is here to provide exquisite workplace to inspire your employees to bring their best every working day. If you are in the market for a headquarter for your new or existing business, look no more and get ready to relocate your business as
Heartwork's HQ500
has you covered!
As the future is heading East, Heartwork is located at the heart of New Cairo, in Mountain View's first-of-its-kind residential experience, iCity. Built upon novel concepts, iCity project deploys 4D technology and international standards to become a true testament of successful Public-Private Partnership.
It is worth mentioning that the first phase of iCity New Cairo was inaugurated last month in the presence of Prime Minister H.E Dr. Mostafa Madbouly, and Minister of Housing, Utilities and Urban Communities, Dr. Assem Al-Gazzar, along with a number of the company's officials. During the visit through, the Prime Minister tour in the project included the housing units, facilities and green spaces as well as the clubhouse. The first phase of MV Club was also launched on the same day
---
---