Egypt : EGX shows mixed performance, market cap. loses LE2.26B amid Egyptian individuals selling
Egypt : EGX shows mixed performance, market cap. loses LE2.26B amid Egyptian individuals selling
12 November 2020 / News / 357 / Emerging Africa
---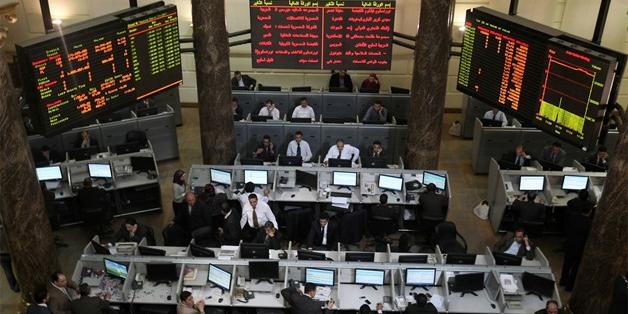 CAIRO – 11 November 2020: The Egyptian Exchange (EGX) ends Wednesday session on mixed note, losing LE 2.26 billion of market capitalization, amid Egyptian individuals selling.
The benchmark EGX30 dipped 0.72 percent, or 79.6 points, to close at 10,977.65 points.
On the other hand, the equally weighted index EGX 50 climbed 0.49 percent, or 10.23 points, to end at 2,102.98 points.
Moreover, the small and mid-cap index EGX 70 rose 1.20 percent, or 23.39 points, to close at 1,976.89 points, and the broader index EGX 100 hiked 0.89 percent, or 25.5 points to 2,888.8 points.
Market capitalization lost around LE 2.26 billion, recording LE 625.68 billion, compared to LE 627.94 billion in Tuesday's session.
The trading volume reached 520.47 million shares, traded through 49,906 transactions, with a turnover of LE 1.62 billion.
Egyptian investors were net sellers at LE 29.08 million, while Arab and foreign investors were net buyers at LE 5.95 million, and LE 23.14 million, respectively.
Egyptian, Arab, and foreign individuals were net sellers at LE 47.42 million, LE 12.66 million, and LE 2.11 million, respectively.
Egyptian, Arab, and foreign organizations bought at LE 18.33 million, LE 18.61 million, and LE 25.25 million, respectively.
El Kahera El Watania Investment, Saudi Egyptian Investment & Finance, and El Arabia for Land Reclamation were top gainers of the session at 9.98 percent, 9.78 percent and 9.45 percent, respectively.
Meanwhile, Eastern Company, Delta Insurance, and General Silos & Storage were top losers of the session by 12.44 percent, 9.19 percent, and 7.29 percent, respectively.
On Tuesday, EGX ended in green, as: EGX30 jumped 2.20 percent, EGX 50 climbed 2.64 percent, EGX 70 rose 2.07 percent, and EGX 100 hiked 2.30 percent.
---
---