Egypt : EGX ends Wednesday in green, market cap. gains LE 3.97B
24 December 2020 / News / 175 / Emerging Africa
---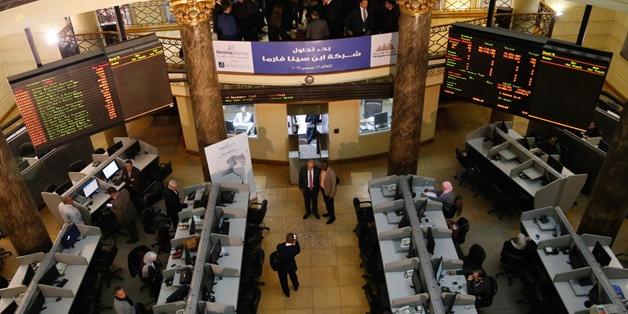 CAIRO – 23 December 2020: The Egyptian Exchange (EGX) ended Wednesday's session in green, adding LE 3.97 billion to market capitalization, amid Egyptian and foreign purchases.
The benchmark EGX30 rose 0.20 percent, or 21.60 points, to close at 10,677.51 points.
The equally weighted index EGX 50 inched up 1.81 percent, or 37.90 points, to end at 2,128.98 points.
The small and mid-cap index EGX 70 hiked 2.94 percent, or 57.83 points, to close at 2,021.65 points, and the broader index EGX 100 climbed 2.32 percent, or 66.47 points, to close at 2,933.98 points.
Market capitalization gained around LE 3.97 billion, recording LE 636.83 billion, compared to LE 632.86 billion in Tuesday's session.
The trading volume reached 527.37 million shares, traded through 38,842 transactions, with a turnover of LE 1.06 billion.
Arab investors were net sellers at LE 56.38 million, while Egyptian and foreign investors were net buyers at LE 54.97 million, and LE 1.41 million, respectively.
Egyptian, and foreign individuals were net buyers at LE 85.38 million, and LE 468,920, respectively, while Arab individuals were net sellers at LE 65.29 million.
Arab, and foreign organizations bought at LE 8.91 million, and LE 942,678, respectively, while Egyptian organizations sold LE 30.4 million.
Porto Group, Mansourah Pourtly, and Osool ESB Securities Brokerage were top gainers of the session at 11.88 percent, 11.25 percent and 9.98 percent, respectively.
Meanwhile, Misr Fertilizers Production Company - Mopco, Egyptian International Pharmaceuticals (EIPICO), and Egyptian Kuwaiti Holding were top losers of the session by 5.01 percent, 1.46 percent, and 1.46 percent, respectively.
On Tuesday, EGX ended trading on mixed note, as EGX30 rose 0.70 percent, EGX 70 hiked 0.26 percent, and EGX 100 climbed 0.51 percent, while EGX 50 inched down 0.02 percent.
---
---