ALGIERS-National reforestation programme: nearly 2 million shrubs planted nationwide
05 January 2020 / News / 293 / Africa-Bi1
---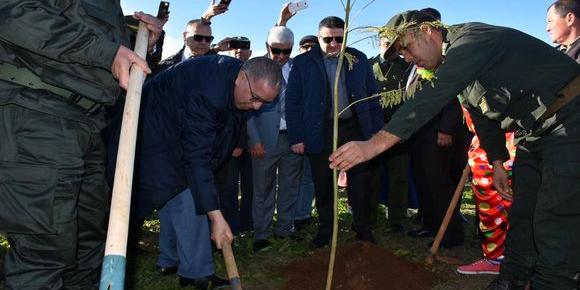 ALGIERS- Nearly 2 million shrubs of all types have been planted since the launch of the national reforestation programme (PNR), under the theme "A tree for each citizen." The programme's objective is planting 43 million trees (October 2019 March 2020), said Head of General Directorate of Forests Ali Mahmoudi on Saturday.
"Almost 2 million shrubs of different species have been planted to date on an area of ​​2000 ha, as part of the reforestation program aimed at planting a total of 43 million trees across the different provinces," said Mr. Mahmoudi to the APS, on the sidelines of an afforestation operation, launched at "Dounia parc" (Dely Brahim), as part of the "my green environment 4" awareness program of the Directorate of Forests and the Algiers' Green Belt.

The province of Sidi Bel-Abbès comes first, with more than 360,000 shrubs planted, against 70,000 to 80,000 for the provinces in the center, like Algiers, Boumerdes and Tizi Ouzou, he added, deploring a low rate of afforestation in the provinces of the south.

Regarding the types of plants and shrubs to be planted, the manager stressed that the afforestation operation will be done in accordance with studies carried out by specialist technicians and in compliance with the standards set according to the nature of the soil and of the climate marking each region.

Several species of trees (fruit and non-fruit) will be planted, including almond trees, walnut trees, pines, cork oaks, oaks, olive trees, carob trees and chestnut trees, he pointed out, adding that the shrubs are imported from nurseries belonging to the various local forest departments.

He also praised the Chinese support for the 2019-2020 PNR, supervised and implemented by the Forest services in collaboration with the Rural Engineering Group (GGR) and representatives of civil society, consisting of a donation of 200,000 shrubs .
---
---