Algeria, Russia have "opportunities" to boost "mutually beneficial partnership"
10 October 2017 / News / 1259 / Emerging Africa
---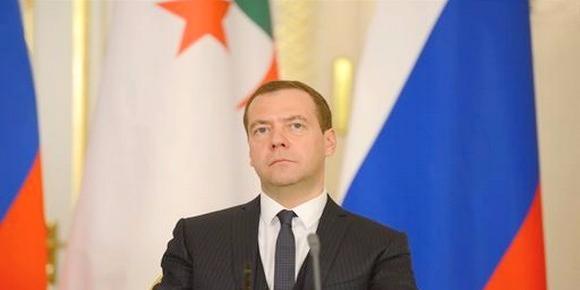 MOSCOW-Russian Prime Minister Dmitry Medvedev said Sunday that Algeria and Russia had "opportunities" to boost their "mutually beneficial partnership in many areas," stressing that Algeria is a "very reliable partner that plays a key role in Africa."
"Algeria plays a major role in North Africa. It is one of the key States in this strategic region. Algiers is a very reliable partner and is open to cooperation in several fields, which is particularly important for Russia," added Medvedev.
On the occasion of Medvedev's visit, Algeria and Russia plan to sign several partnership agreements in various fields, with a view to further increasing exchanges that doubled last year to reach nearly USD4 billion.
While broaching the cooperation prospects between Russia and Algeria, Dmitry Medvedev said he was convinced that the two countries "have the opportunities to boost opportunities their partnership in all fields," underlining, in this regard, the key role of the 8th Russian-Algerian Joint Intergovernmental Committee for commercial, economic, scientific and technical cooperation, which met on 8 September in Algiers.
This Intergovernmental committee allowed the two sides "to set ou new cooperation plans in industry, transportation, construction, geology, agriculture, healthcare, research, space exploration, as well as information technology," said Medvedev, confirming his country's willingness to "support our Algerian partners who are working currently to turn their country into an industry and energy hub in North Africa."
The partnership process is also the result of "intergovernmental contacts complemented with dialogue between our businesses," said Medvedev, underlining that "these forums help our business communities strengthen their ties and create conditions for new joint projects, therefore contributing to the deepening of our cooperation. Our governments should create maximally comfortable conditions for doing business so as to help our companies make use of these opportunities."
To illustrate, Russian Prime minister said that just after the holding, in Algiers, of the 8th meeting of the bilateral intergovernmental committee, representatives of large Russian companies such as Gazprom, Transneft, Novatek, Inter RAO-Engineering, Ouralvagonzavod and many others went to Algeria in a business mission.
"The focus was on building up investment cooperation," he recalled.
--Strategic partnership and historical ties--


The Declaration of strategic partnership signed in 2001 by the two countries provided a "fresh impetus" to bilateral relations, as "our two countries are successfully cooperating in several sectors, from energy to international politics," said Medvedev, who pointed out that "the partnership between Algeria and Russia goes back to decades."
Speaking about Algeria's Liberation War against French colonialism, Russian Prime Minister paid tribute to the Algerians who "upheld their right to be free in an independent state and to make their dreams come true. It is this striving for independence and victory that unites our nations."
Underlining that "many ambitious projects were suspended after the Soviet Union's dissolution," Medvedev said that "we are currently making up for lost time. I am confident that my visit to Algeria will help strengthen our friendship and mutually beneficial partnership. (...), Algeria has been one of Russia's leading trade and economic partners in Africa and in the Arab world for years."
--Similarity of positions vis-à-vis topical issues--
While raising the similarity of positions between the two countries in several international topical issues, Dmitry Medvedev said that Algeria and Russia "stand for strengthening the central role of the United Nations and its Security Council in maintaining peace and security, as well as for a multipolar world," adding that "regional conflicts must be settled diplomatically based on the UN Charter and the supremacy of international law."

Algeria and Russia "have similar views on the right of nations around the world to choose their future and settle their domestic problems without external interference. This must be done peacefully and non-violently, through dialogue based on law. Outside interference is absolutely unacceptable," said Medvedev.
"Only in this way can the conflicts in Syria, Libya, Yemen and Mali be settled. Only in this way can people in those countries be protected from suffering and wars and have a chance for a normal, tranquil and, most importantly, peaceful life," he affirmed.
Russian Prime minister particularly stressed "the similarity of views" between Algeria and Russia on the threats of terrorism and transnational organized crime.
"We agree that the proliferation of terrorism is a global challenge. It is only by joining forces that we can stand up against it. We must do this in a coordinated manner by joining all available forces and definitely with reliance on international law," he underlined.
"We are working to promote our cooperation with Algeria in these areas. We will continue to coordinate our positions on foreign policy issues, including on the situation in the Middle East, North Africa and Sub-Saharan Africa," concluded the Russian PM.
---
---