ALGERIA, MALI WANT TO BOOST ECONOMIC EXCHANGES AT THE LEVEL OF POLITICAL TIES
19 July 2017 / News / 766 / Emerging Africa
---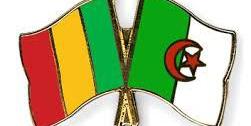 Algeria and Mali have shown, on Monday in Algiers, their willingness to raise their economic exchanges at the level of political relations, knowing that the commercial exchanges do not currently exceed $ 1.06 million, APS reported.
"The level of trade is very low and insignificant between both neighboring countries, and as economic operators, we should raise the level of trade to the level of political relations that are excellent," said the President of the Chamber Commerce and industry of the region of Titteri (Medea), Abderrahmane Hadef, during an information day on investment opportunities in Mali, organized by the Algerian Chamber of Commerce and Industry, in collaboration with the Embassy of Mali in Algeria.
The amount of trade between both countries is estimated at $ 1.06 million, consisting of one (1) million Algerian exports of medicaments, mainly electronic and food products, and $ 60,000 of Algerian imports foodstuffs, Hadef said during the information day, in the presence of representatives of the Embassy of Mali and national economic operators, as well as the representative of the African Development Bank in Algeria, Traore Boubacar Sidiki.
According to Hadef, this meeting is another opportunity to discuss opportunities for cooperation and economic partnership, citing the energy, industrial and agricultural sectors.
The holding of this information day on the Malian economy will have made it possible to offer better visibility to the Algerian economic operators and to know the possibilities of investment and partnership in Algeria as well as Mali, he said while indicating that visits of delegations of Algerian businessmen to Mali were planned soon to know the investment opportunities.
The Diallo Boubacar Biro, Chargé d'affaires of the Mali Embassy, ​​told the press that the political will to accompany the dynamics that characterizes the relations between the two countries and a will shared by the Algerian and Malian economic operators to set up concrete projects.
In this regard, he added that Mali offers a great number of opportunities to investors with a dynamic private sector and a legal framework that offers facilities in particular in the sectors of agriculture and energy.
---
---