Energy Minister holds talks with "Joan Polaschik" about Algeria- US' cooperation
10 July 2017 / News / 853 / Emerging Africa
---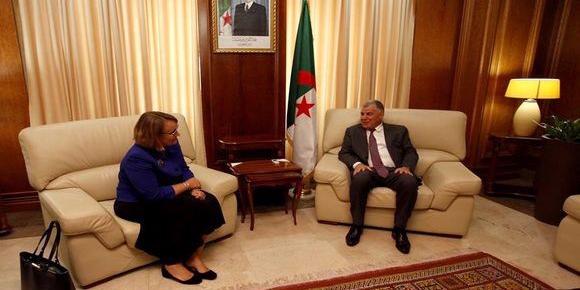 The Algerian Energy Minister, Mustapha Guitouni, has met on Thursday in Algiers, the US ambassador to Algeria, Joan Polaschik, with whom he discussed the relations of cooperation and partnership between both countries, in particular in the energy field, the Ministry said in a statement, on Friday.
During this meeting, held at the Ministry's headquarters, Mr Guitouni, has presented Mrs Polaschik, who gave her a working visit and courtesy at the end of her term in Algeria, "the future prospects for investment in structuring projects in Algeria", said the statement.
He called for "US companies to invest in the exploration and production of hydrocarbons as well as in the processing and refining industries and renewable energies," added the statement.
The Minister has also spoken about the different domains in which "opportunities exist to develop partnerships, exchange of experience and solutions to common concerns, including training and transfer of technology and know-how" according to the same source.
The Minister has also thanked, Joan Polaschik, who is completing his diplomatic mission, for her "active" diplomacy and for her "personal investment" in strengthening cooperation between both countries, as well as in carrying out important partnership projects "combining energy and industry for more wealth creation, concluded the satement.
---
---